Dan Hopkins, film-maker & musician:
THE CREATIVE STOKE PROFILE: we review the recent short films made by Stoke-on-Trent's Dan Hopkins.
(All video captures © copyright Dan Hopkins)
That mild-mannered freshly-scrubbed uber-Technician from Staffordshire University? He's really an avante-garde superhero. He goes home at night, pops another thesaurus in the blender, takes a swig and //whoosh// he's dashing out into the damp Stoke-on-Trent night under yet another one of his bewildering array of monikers. Sometimes he goes by the name "HL" (Hurra caine Landcrash), or is the label-boss of "noground-r", or the impressario of "The Electronic Image" screenings or an occasional music night, or a member of the trio no ground processes. Sometimes he's the Pop Video Producer Man, sometimes the VJ artist named "etc/". Sometimes he's up against the Forces Of Funding, and is thus forced to be plain 'Daniel Hopkins the artist'. Oh, and he's rumoured to have a band. But, whatever the name Dan goes by, he's always doing good work.
Dan has been releasing films since his debut with the Channel Four-funded short Driven (2000), an impressionistic three-minute film about the dazed monotony of


Still from Driven (2000).

driving. This effective little film plays with fluid Taxi Driver-like shots of roads at night, to evoke the dazed state of mind one can get after long working hours. The narrative is conveyed with admirable concision by the actor playing the driver, and the ending invites the viewer's imagination to run wild. Shot in 35mm, Driven is the film that kicks off the Dan Hopkins show-reel DVD.

Sometimes his show-reel films accompany Dan's own soundscapes, sometimes the videos are band promos. Driven is followed bumper-to-bumper by Xanexxx (2004) made for the now-defunct band Mountain Men Anonymous. Xanexxx shows a slowly-building montage of nature reclaiming ruins - ruins that used to be 'the modern world' in Stoke-on-Trent, circa 1929. Towards the end of the film we are left only with outlines and shapes, vague geometric blueprint-memories of places that are doomed to be demolished and tidied away to make way for boring industrial sheds of breeze-block and tin. The film interplays with





Three stills from Plastic Decay (2002)

a Mountain Men Anonymous soundtrack that provides a marching beat overlaid with a floaty nostalgic piano.

Plastic Decay (2002) is one of Dan's most interesting and successful films. It continues Driven's concern with the hypnotic weightlessness of modern travelling - yet marries this with a new Jarman-esque sense of shoreline and seascape, and also adds an extra layer in Victor Burgin-style overlays of poetic slogans. These three elements merge with great effectiveness.

Instant Jplug (2003) has a Japanese-sounding epic soundtrack by Arcade, reminicent of some late-90s tracks by Aphex Twin. To this Dan opens with rice-paper like panels that give way to organic textures and baroque geometric abstraction, later collaged with hypersatured plants - plants that then slowly mutate back into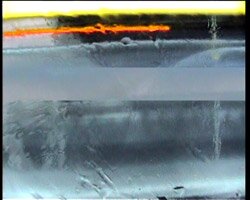 Two stills from A449 (2003).

pixelated abstraction towards the end.

Closer to the Edge has a soundtrack by the Derby-based band Development of Shape, and returns again to the theme of travel, on roads at night. This is a moody introspective film that can't match up to the 35mm polish of Driven, although it neverthless manages to end on a similar claustrophobic note as a ghostly road-movie vista opens up. Closer to the Edge is also available as a 3-inch 11-minute DVD release on Dan's noground-r label (ng-r05).

Dan's show-reel ends with his long hypnotic work A449 (2003). A449 is a 15-minute 19-mile film of a trip down the narrow A449 road between Newport and Monmouth in South Wales. You cannot turn your car round, or even cross this road, once you are on it. Rain on the windscreen is composited with snatches of glimpsed landscape, all of which is rendered in a very painterly manner due to the speed of the car and the way the rain blurs the vision. Dan's own subtle soundtrack is full of whispers and doppler effects




Still from the end of Closer to the Edge.

from field recordings. Any one of the frames of this film, if suitably printed out, could serve as a painting, yet the film's sense of movement also successfully conveys the blockings and glimpses and plays-of-light that are inherent in a car journey in rain. In its marriage of rain, boredom and the British landscape, it speaks of a certain English neo-romantic tendency to melancholy and the strange meandering reveries that that can engender.




Stills from Flying (2006).
Dan has let Creative Stoke have a preview of another four films that are new on DVD for 2006, a sort of 'video EP'. Flying (2006) is a very accomplished new promo video for The Telescopes. It avoids the obvious temptation to give psychedelic music a colourful 'kaleidoscopic' look as a backdrop, and instead goes for subtle black and white montages of trees and branches, suggesting the complexity of the music through the complexity of organic overlappings and gentle wind movements. Gradually shots of the band playing are subtly interwoven, without breaking the mood. The whole peice is very successful, and evokes both the atmosphere of Japanese tree prints and a "west coast 60s" psychedelic feel.
Fields That Speak (2006) is another interesting new work with engaging new music, a widescreen meditation on the brooding nature of the English landscape. It alternates between distant

Still from Fields That Speak (2006).




views and small organic details, balancing around mid-range shots. This film is sheduled for a future release as part of a CD/DVD package on the noground-r label, titled Takuma.

Also on the new DVD are Artificial Light (2002) which is the video equivalent of the Martian poetry of the 1970s; an alien's view of our artificial lighting systems, featuring contrasting views of sun-on-water and streetlights and Burgin-style lettering. This meditation on light pollution is a multi-layered film, filmed on a blend of super-8 film and video. And Spruce is a short enigmatic tone-poem consisting of red bands passing a field of red, playing with DVD compression and artifacts, and evoking fleeting impressions of blood scanning and satellite mapping.

Finally, we have Dan's four films inspired by the public art of Leicester. These were included, in the form of a DVD, with a sumptuous hardback book on the city's "Cultural Mapping" process. There is something in these four films, as there is in some of his other films, of the early Situationist concern with the emotional textures of urbanism and the routes through cities.

Loop (2005) flows through graceful drive-bys of circular traffic islands, the new sculptures on them being glipsed fleetingly as they would be from a car. Track-suited pedestrians and shops with huge "sale" signs provide grace notes in the background. Sadly, one is perhaps more interested in the bushes and trees on these islands, than in some of the




Stills from Scope (above) & Green (below).

stock municipal sculpture. But the core of the film is the sense of movement, which contrasts with the fixed nature of the sculptures. Ears (2005) is a very short, but very beautiful, film about one of the most interesting and "active" public sculptures. It reminds one of Derek Jarman's early short films and his later film The Garden; in its use of glimmering light, a long static shot, and speeded-up film. Green (2005) consists of four small screens side-by-side, with speeded-up hand-held footage of a walk between and past some of the city's public art. The effect might be described as Derek Jarman's pop video for "The Queen is Dead" meets Hamish Fulton's walks. The sense of walking is given closure at the end, by a circular movement around a new observation post in a park. Scope (2005) has some very beautiful sections as two smaller telescope-view videos are overlapped onto a video of a walk down a sunlit street scene. The music, visuals and emotional sensibility really gel in the early part of this film, but it is later marred by "pop up" still images of the public sculptures. Let's hope this latter feature was an artistic decision, and not due to pressure on the artist by the funders.

Dan, as 'Hurra caine Landcrash', also has a new album of his music out. Moving (noground-r, ng-r 06) is that 'difficult third album',





Moving front cover.

being a follow-up to Adaptor (2000) and Digitalis (2001). It features eleven ambient electronica soundscapes, very much in the mould of Brian Eno's seminal Music for Films. As in Dan's films, there is a painterly quality here, the focus is never pulled, and one is simply carried along or else 'watches' the aural landscape intently. The music broadly matches the neo-romantic mode of many of his films, in terms of conveying an emotional interaction with the landscape and a psychogeographic concern with brooding industrial relics and roads. Growing up on the Somerset Levels probably helped matters here; it was surely a place which was an education in the quality of light, and the quality-of-tenderness that such a light can shine on tiny details in the landscape.
Several Dan products can be purchased via the website www.noground.co.uk and also www.normanrecords.co.uk or www.lowenergynetwork.com or First Person Records. Dan is based in Stoke-on-Trent and is always looking for collaborations in music and film.
---
---
Some previous Creative Stoke front-page features:-
Mark Wood...
The Frink School of Sculpture...